Western Chicago Suburbs Market Summary
The real estate market in the Western Chicago suburbs during Q2 was remarkable in many ways. As we expected, buyers moved aggressively to beat interest rate increases and pushed prices much higher on an already depleted inventory of available homes. Market conditions decidedly favored sellers in this timeframe, but we are already seeing some changes in Q3 with buyer demand softening due interest rates moving higher, economic concerns, etc.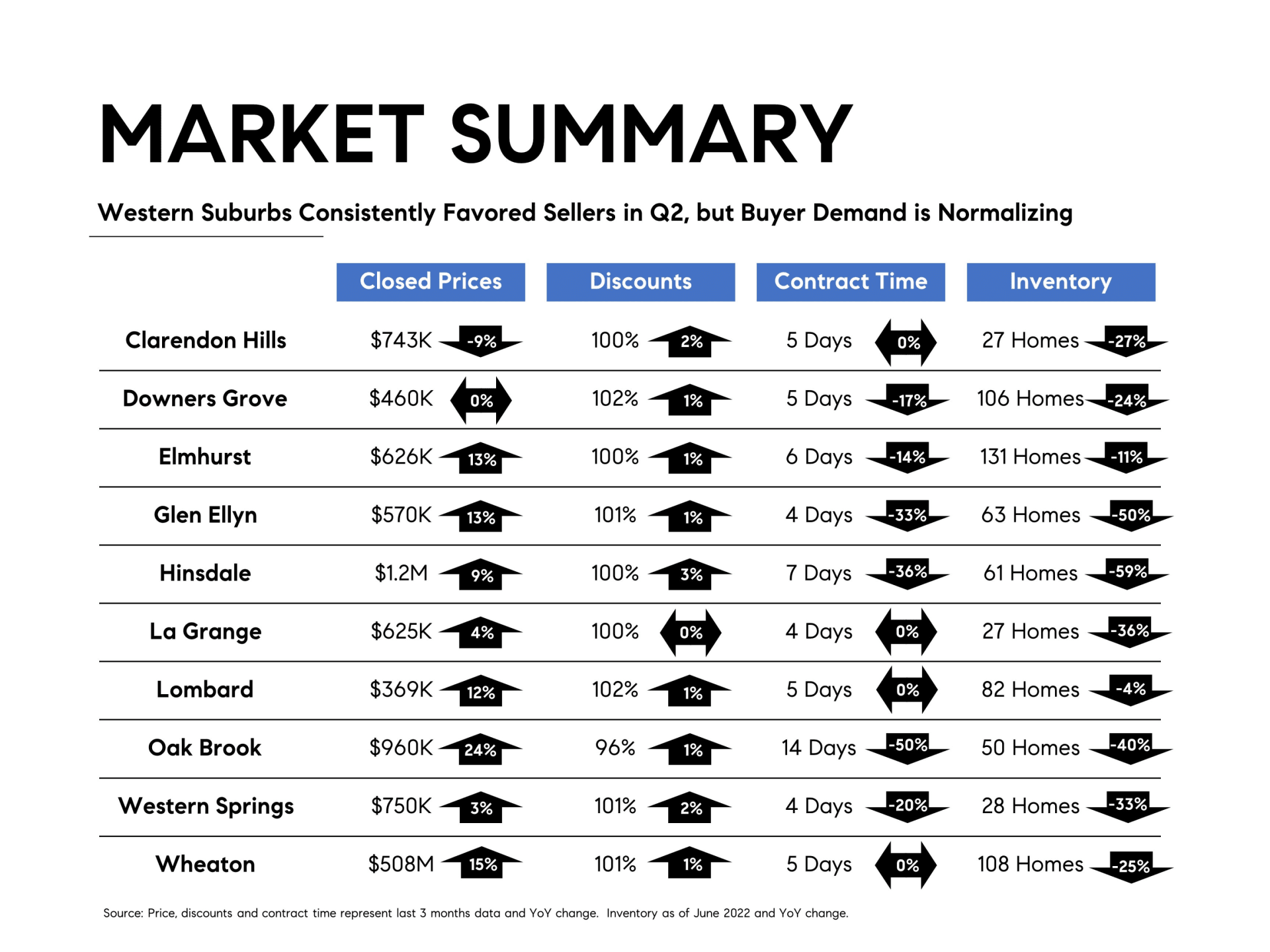 Western Chicago Suburbs Sale Prices
Sales prices moved decisively higher during the quarter and many of the Western Chicago suburbs set new records, including Elmhurst, Glen Ellyn, Hinsdale, Western Springs and Wheaton. It is important to review this data alongside the following chart that reflects relative value by adjusting for above-ground home square footage.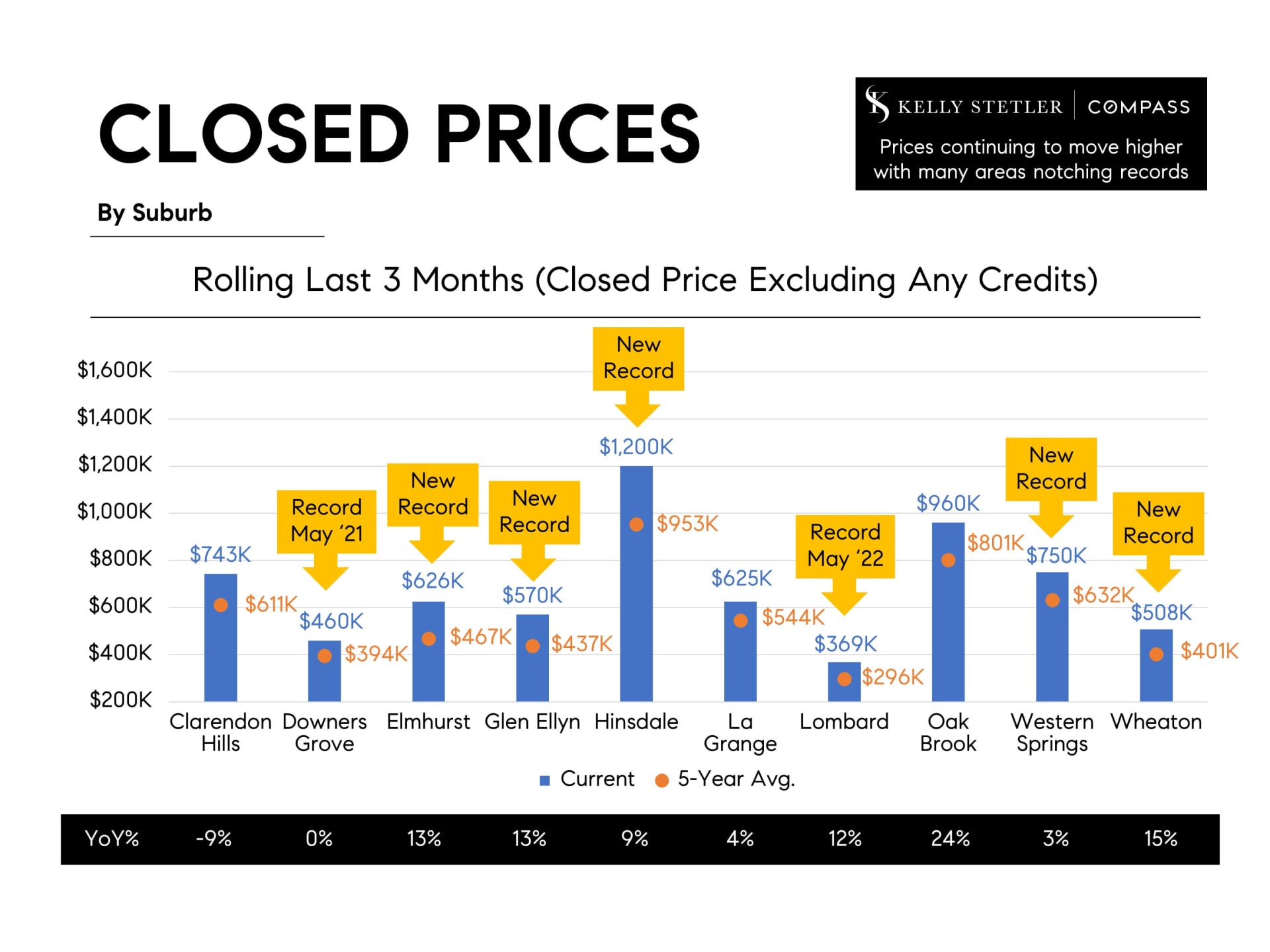 Western Chicago Suburbs Relative Sale Prices
Relative prices moved much higher as well with a number of suburbs now $40+ per square foot above long-term averages. All of the shown Western Chicago suburbs set new records other than Hinsdale, Oak Brook and Western Springs. Homes sold in Hinsdale and Western Springs mixed to a larger size in order to break overall sale price records, but not price per square foot. The pace of price growth is likely to slow meaningfully with buyer demand normalizing; it is possible relative prices may also start to decline.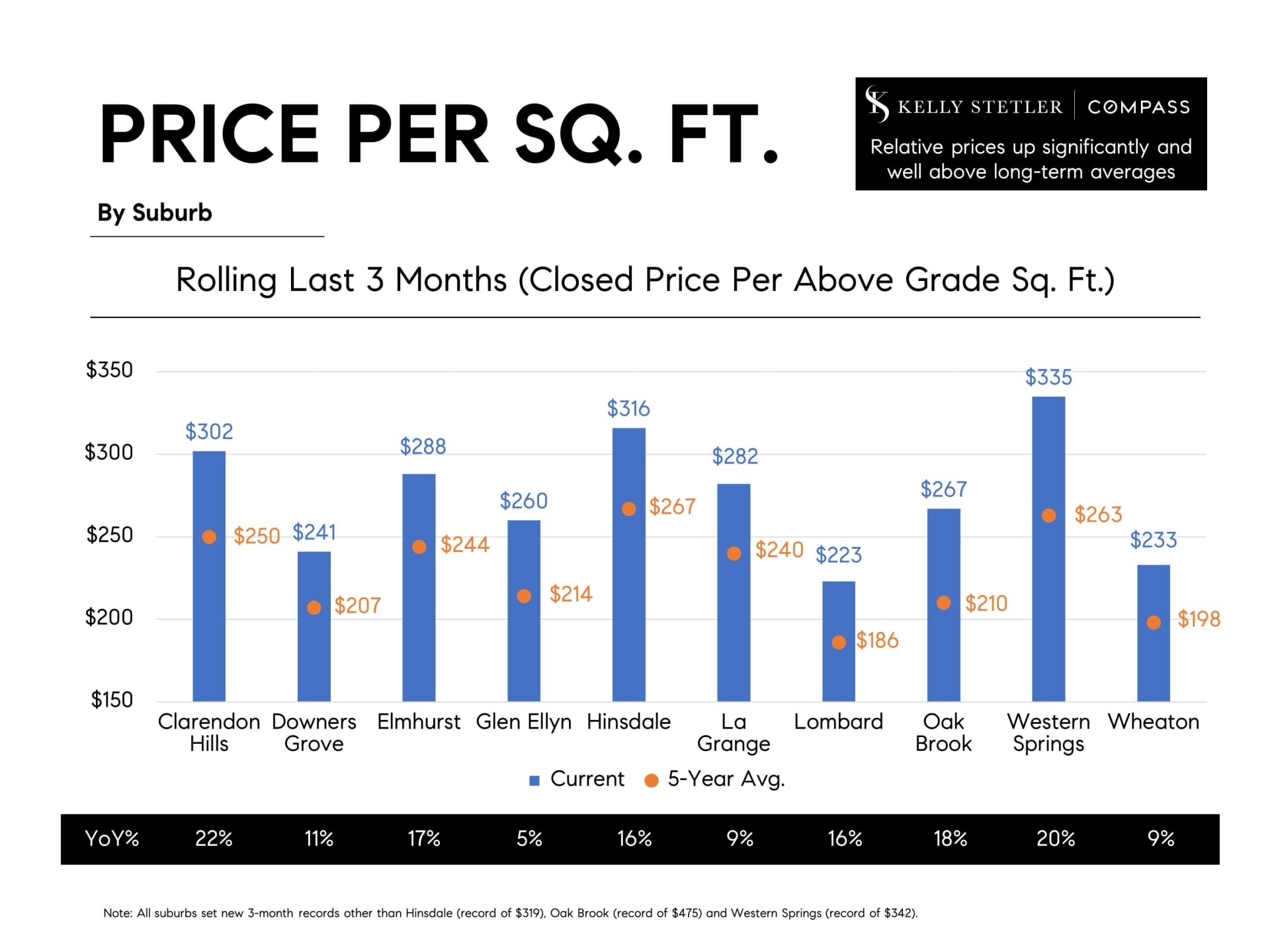 Western Chicago Suburbs Sale Price Discounts
Price discounts were extremely tight and/or non-existent with many homes selling at a premium during the last quarter. Typically, homes in the Western Chicago suburbs trade at a 3% - 4% discount to original asking price on average over time. All suburbs experienced full ask or above ask during this time frame, other than Oak Brook. We have seen discounts returning to the market in early Q3 and more price reductions taking place.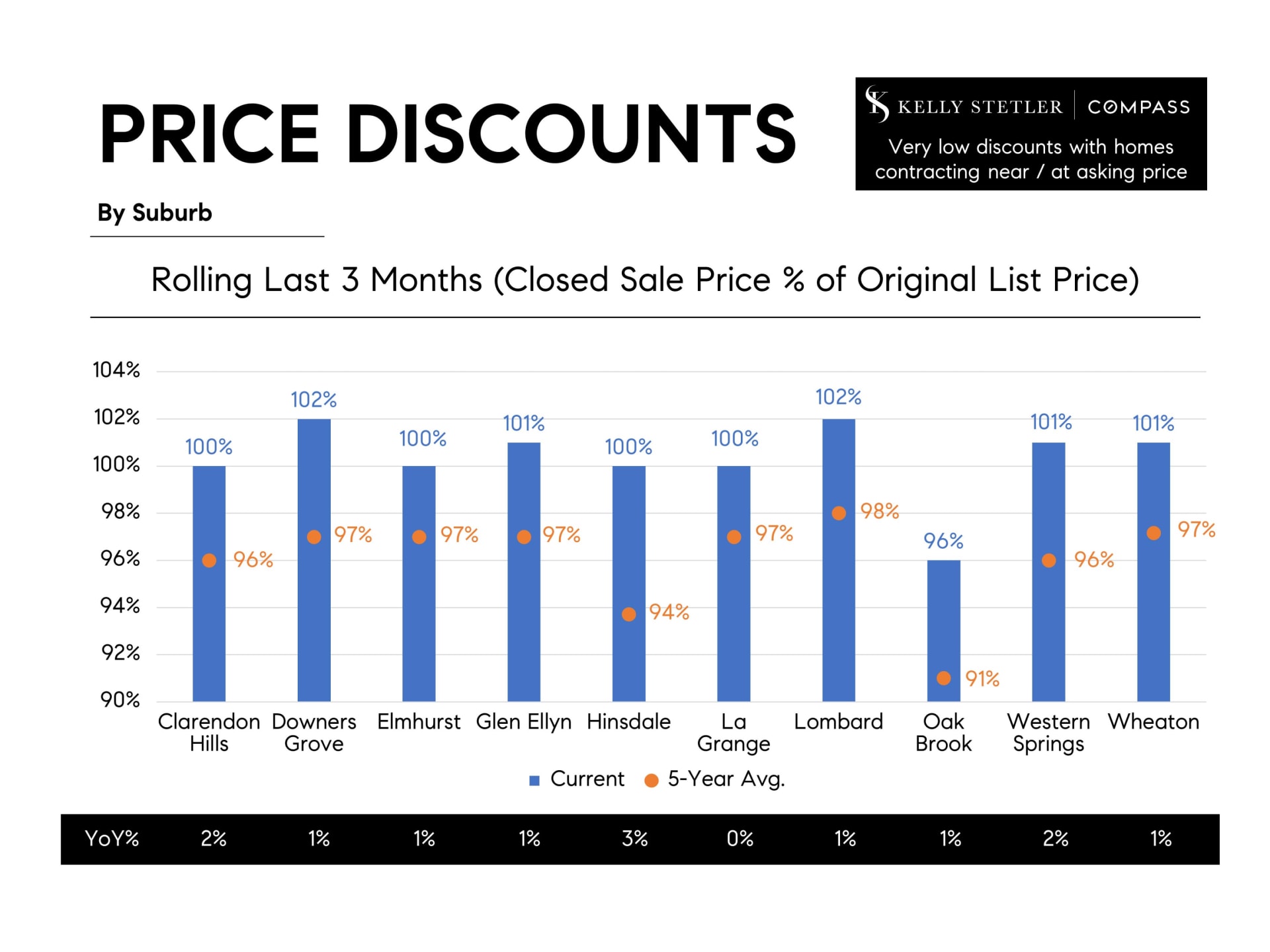 Western Chicago Suburbs Contract Time
Contract time was extremely fast over the last three months at a week or less in all suburbs, other than Oak Brook. Buyers were very quickly evaluating new home listings and writing offers. We believe contract times will increase in the back half of 2022 as buyer demand moderates and the market becomes more balanced.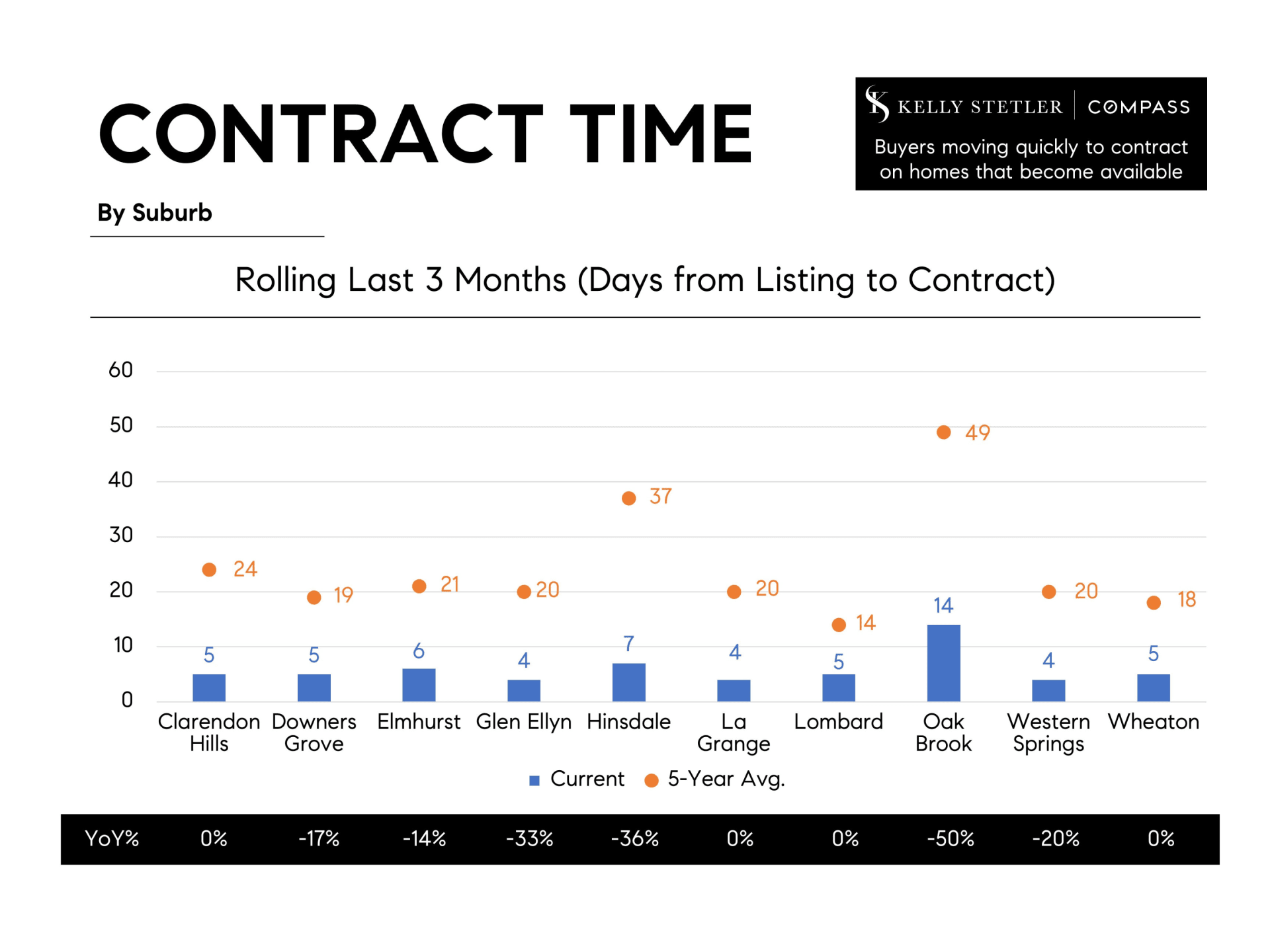 Western Chicago Suburbs Home Inventory
Available homes have been very limited for the last couple years and inventory remains at long-term (15+ year) lows in many cases. Interestingly, new listing activity has not been dramatically different from historical patterns. Elevated buyer demand for the Western Chicago Suburbs has driven higher pricing, low/no discounts, short market times and the resulting low inventory. As buyer demand softens, these factors should normalize and create more inventory. For buyers that are starting to look or have been frustrated over the past several months, there will be more opportunities to purchase in the second half of 2022 and next year.